We have the solution for your wet crawlspace.
Dirt or crawlspace floors inside the home transmit humidity, odors and radon gas. They may provide rodents and insects an easy path into the upper living portions of the home. The humidity and dampness that is inherent in a crawlspace may also cause structural damage to the wood framing, carpets, floors and walls. This environment is a breeding ground for mold and mildew, all of which present a real problem.
The homeowner might consider pouring concrete over the wet crawlspace floor, but in a post construction setting, this is often unrealistic and impractical. The best method is to use proper crawlspace encapsulation techniques using a crawlspace vapor barrier and a crawlspace dehumidifier.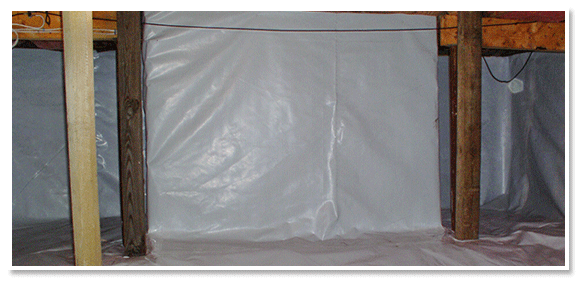 Our Solution:
Crawlspace Encapsulation – Crawlspace waterproofing involves three things, keeping moisture from getting into the crawlspace, keeping moisture in a crawlspace from getting into your house, and keeping the air inside your crawlspace dry. The crawlspace encapsulation process starts with placing a vapor barrier over the crawlspace floor and foundation keeping outside air out and crawlspace dampness in.
Crawlspace Vapor Barrier – Unencapsulated crawlspaces can leak moisture and mold spores into your house, adversely affecting the health of your family and promoting the proliferation of mold. A crawlspace vapor barrier is a physical shield placed around a crawlspace to keep moisture from escaping into other parts of your home. Crawlspace vapor barriers must cover the entire floor as well as the foundation in order to be effective.
Crawlspace Dehumidifier – Not only do you need to keep outside moisture from getting into your crawlspace, but you also need to make sure the air inside stays dry. In order for crawlspace encapsulation to be effective, the air needs to be moisture-free, because of this, a proper crawlspace dehumidifier needs to be put in place. Our patented crawlspace dehumidifiers such as the Humid-Evac® will make sure your crawlspace remains moisture free, guaranteed!
Crawlspace Waterproofing Products – Our Crawlspace Conduit® is a concrete floor replacement for when concrete is unrealistic in a post construction setting. BONAIR BY Humidex, Air Mop® 2, and the Humid-Evac® are all an easy, efficient way to reduce the effect of damaging and uncomfortable humidity in your home. Crawlspace Conduit® creates a dynamic air exchange that expels humid indoor air, resulting in a comfortable, dry, healthy living environment. Finally, The Curtain Drain™ and the Lawn Magnum® are designed to eliminate water from entering the crawlspace due to exterior pooling.
When crawlspace waterproofing solutions such as the Lawn Magnum®, Bubbler Pot, the Baseboard, and the Water Trek are put in place by our technicians, your wet crawlspace will be dry in no time.